Home SRT4/GLH Specs Vintage Forum

The classic Dodge Dart cars, 1960-1981
For 21 years, Dodge Darts came out of Detroit — longer, if front wheel drive Mexican cars are included. The cars are often described as "unkillable," durable, and dependable, if a little stodgy in their later years. Most people remember the Dart in its final form, which it stuck with from 1968 to 1976 in the U.S., with relatively minor changes; and very, very few have unkind words for it, though many owners of the later models can talk at length about replacing ball joints and wet feet. We still know people who use Dodge Darts (and Plymouth Valiants) as their daily drivers, in 2011.
Big Dodge Darts: 1960-1962
Styling resembled other Dodges, but with a grille that featured vertical bars that curved down and forward from the hood. Three engines were available: the brand new 225 cubic inch slant six, the 318 cubic inch Red Ram V8, and a four-barrel 318; the 383-cubic-inch D-500 engine with ram manifolding was available as "special equipment." 383 Darts were terrors of the track, between their potent engine and light weight.
New rubber block and heavy coil spring engine mountings used on all 1960 Dodge engines achieved the largest reduction of engine vibrations since Dodge first introduced V-8s. The slant six used the new TorqueFlite transmission; an alternator, then revolutionary, was available as an option, as it was on the Valiant.
Every Dart had unibody construction, which Dodge general manager M.C. Patterson called "the greatest step forward in automobile body building since Dodge introduced all-steel bodies." The car also featured Chrysler's torsion-bar suspension, a system then used mainly by luxury cars, but standard across the Dodge and Plymouth lines.
Details on the 1960 Dodge models, Torsion-Aire, and unibody construction at allpar.com
For 1961, the slant six was retuned somewhat, and numerous V-8 engines were offered, culminating with a 330-horsepower V-8 with special ram induction manifolding. Options included power locks (vacuum powered), hazard flashers, and a rear speaker for the solid state radio.
The 1960 Dart was a big success, but it would quickly fall. Dart beat Plymouth U.S. sales in 1960, but not 1961 or 1962; but the first year's 306,603 cars was hard to beat. In 1961 it dropped to 167,678; in 1962, down to 148,356, and considering the styling, that was a good number.
For 1962, Dart had powerful (up to 375 hp) optional 413 cubic inch V8 engines (except in the wagons). The aluminum intake manifold was a new, one-piece, short (15-inch) ram tube which fit between the rocker covers and acted as a tappet chamber cover. Hot tappet lash could be set with the manifold installed -- an important servicing advantage.
1960-62 Dodge Darts at allpar.com — more information and photos
1963-1966 Dodge Dart Buyer's Guide
For 1963, the Dodge Dart name was moved over, replacing Lancer on Dodge's version of the new Valiant — a car Dodge should never have had, given their market niche.
These early models are more regal and sophisticated than those of the brash muscle years, with which they share underpinnings with the later cars. When compared to other compacts of the era, they offer a high level of class (especially the GT models). Their size makes them fun to drive and also delivers surprising fuel economy. With minor upgrades, they can handle just as well as a new car. They remain an affordable choice for restoration when looking at 1960s Mopars.
Plymouth Valiants of the same years are similar, but have some differences. They rode on a shorter wheelbase, and had unique sheet metal and trim.
Dodge made five different body styles: A four-door sedan, two-door sedan (post), two-door hard top (no post), convertible and a station wagon. There were also three different trim levels available, the base level 170, 270 and high end GT. The GT was only available on the two-door hardtop and the convertible.
The interiors typically changed every year. The good news is that most all of the soft goods are available in the aftermarket. Carpet, headliner, rear package tray, seat vinyl are readily available. Some door panels are reproduced but can be expensive. Padded dashes were the same 1963-64 then switched to a flatter version in 1965-66. Gauges changed from year to year.
1963 Dodge Darts
The 1963 Dart is an oddball in this generation. It was only available with the 170 and 225 slant sixes. Transmissions were the A-904 Torqueflight and a three-speed manual. The 904 was shifted via push buttons on the dash, the transmission used cables to select the gear. The driveline used a ball and trunion in the front joint which can be hard to get rebuilt. This didn't change until the '66 model.
1964 Dodge Darts
The 1964 Dart looked similar to the 1963, with the most obvious change being the convex grille. This year was the 50th anniversary for Dodge and all models were marked as such. The 1964 was blessed with the new 273 V8, which also included a new firewall to clear the engine. The slant sixes continued unchanged. The three speed manual and push button torqueflight were joined by a new four-speed manual transmission called the A-833. It was shifted via a chrome Hurst shifter.
1965 Dodge Darts
The '65 model was given a minor facelift with a new front clip and oval taillights. A hotter 273 4bbl was added to the list of engines. Transmissions remained unchanged, but the automatics were now shifted with a lever, either on the column or the floor.
There was also a couple special editions available. The Dart Charger is a very rare edition that combined the 273 4bbl, heavy duty suspension, mag wheels, special badges and a special soft yellow color exterior. There was also a cheaper version that did not include the badges.
1966 Dodge Dart
The '66 model was given another new front clip, squared off to mimic the new Charger. Engine options remained unchanged except for a special 273 offered in the D/Dart, a special drag racing edition. The ball and trunion front joint was replaced with a more common U-joint and the 904 transmissions were now shifted with linkages instead of cables.
The interior featured a new gauge cluster that was rectangular rather than circular. The GT models got new bucket seats, with a vinyl cover metal back, and a full length console. An interesting side note is that a '66 Dart sedan driven by Bob Tullius won the inaugural Trans Am race that year.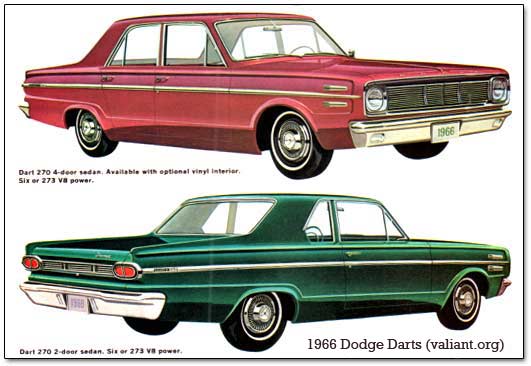 1967 to 1981 Dodge Dart
The Dodge Dart was a sales success for nearly its entire run. The 1967-81 models were wider and larger than the originals, with "big car" styling and enough room for a fire-breathing 340. (In the United States and Canada, these models ran from 1967 to 1976.)
In 1967, the Dart continued its slant-six-or-273 options.
The 1968s gave up different styling for the Dart and Valiant, for the most part; the front and rear clips remained unique, and the Dart kept its longer wheelbase... for a while.
The Swinger model, an upscale version of the Dart (mostly sold in two-door form), was sold starting in 1969 as the cheapest two-door model (replacing the two-door sedan of 1968), and was also sold by Plymouth in two-door form as the Scamp.
The hot version was the Swinger 340, a Swinger with a 340 cubic inch V8, which made it into a fairly hefty muscle machine. The other two-door hartops were Custom, GT, and GTS; GT and GTS were gone when the 1970 models were introduced.
For 1971, Dodge introduced the Demon, essentially a Plymouth Duster, and the Demon 340 replaced the Swinger 340; the Custom hardtop became the Swinger, and the old Swinger became the Swinger Special. All were sold with much less success than the Duster; and when Plymouth returned the favor by bringing out the Scamp, a clone of the Swinger, it sold moderately well, but not nearly as well as the Duster itself. Canadians got a Scamp Special in 1971; Americans had to wait until 1976.
Road Test magazine tested the 340 Demon (similar to the 340 Duster) in April 1971. They got from 0 to 60 in a quick 7.8 seconds - this is with a three speed automatic and bias-ply tires - and ran through the quarter mile in 14.6 seconds at 96 mph, with a top speed of 127 mpg. Gas mileage was at 14 city, 17 highway, not far from the standard 318 and reasonably close to the slant six. Cornering, finish, luggage, performance, steering were rated excellent; details, instruments, quietness, ride, visibility, overall were rated very good. The base price was $3400 including tach, stereo cassette, and automatic.
The 1972 Dodge Dart brought many changes, including new interior and seating options, new exterior changes, an optional FM radio and hood release, many mechanical improvements, and hardened valve seats installed on the slant sixes. (For other changes and much more detail, see the 1972 Dart, Demon, and Swinger page at valiant.org).
New features for 1973 included standard electronic ignition and an optional sliding metal sunroof on two-door models. Dodge differetiated itself from Plymouth with a pointy "pedestrian killer" hood.
The Dart 340 Sport, formerly the Demon, kept its 340 four-barrel V8; it was still hot, with 240 net horsepower and light weight. The 198 slant six was still available (except in California), along with the 225 slant six; the 318 was optional except on Dart 340 Sport, for obvious reasons.
In 1974, the Valiant was put onto the larger Dart wheelbase, ending the main difference between them; Plymouth sales shot up, and Dart sales fell. For the first time, Valiant sales were nearly double those of the Dart. Changes for 1974 included a three-speed vent fan.
1975 Darts were on their way out, but Dodge still made numerous changes, switching to an economy rear axle for 318 models, increasing the heat/defrost system capacity by 14%, adding a resonator to 318s and slant sixes with the sound insulation package, making two-speed electric wipers standard (three speeds on SE), adding optional cruise control, speeding engine warmup with a heat valve in the exhaust manifold, and using a new molded dash liner to cut noise. (For much more, see valiant.org's 1975 Dodge Dart and Swinger page).
For 1976, the primary change was switching from clear front parking light lenses with amber bulbs, to amber lenses with clear bulbs. But by then, as Consumer Reports urged, customers were switching to the new generation compact car — very similar in construction, aside from the new (and less reliable) front suspension, — the Plymouth Volare and Dodge Aspen. 1976 customers who followed this advice would regret it — while those who stuck with the trustworthy Dart could gloat.
Dodge and Plymouth A-body sales were nearly identical in this final year, but both sold at their lowest rate since introduction in 1960 and 1963; even then, the pair sold over 100,000 units. Today's Chrysler would consider them a sales success even at their lowest point.
Details on the 1968-76 Dodge Darts at allpar.com
The Dodge Dart continued after 1976, in different forms; in Brazil, the Dart continued until 1981 with few differences, keeping the 1974-76 body style (see the last A-body Dart ever made, a Brazilian model.)
In Mexico, the Dodge Diplomat was sold as a Dart starting in 1980; it had both two and four door versions, with six and eight cylinders, using the Aspen front clip on the Diplomat body.
Thanks to Bill Watson for his corrections.
Interior •  Engines • Gizmos • Quality • Specs • Engineering • DDCT
Interviews • Dart GTS • RallyCross • Up Close •  Forums
Cars, Prices • SRT4/GLH? • Road Test / Review (at allpar)
This 2013-2016 Dodge Dart site was established in 2011. Terms of service / privacy policy. © 2011-2017 Allpar, LLC except as noted and Chrysler press materials.