Home SRT4/GLH Specs Vintage Forum

Mopar's Dodge Dart GTS 210 Tribute Car
With the "stage 1" Mopar appearance package for the Dodge Dart, matte-black trim pieces are put onto the interior: a lower chin spoiler, side sills, rear spoiler and rear-diffuser panel. Mopar also added a carbon-fiber hood with air scoop, and 18-inch, 10-spoke forged alloy titanium-colored wheels.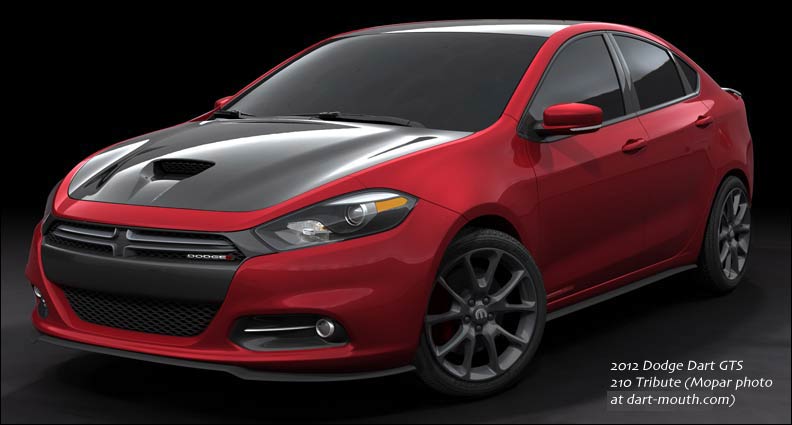 Inside, beyond the 14 interior color and trim options available in the 2013 Dodge Dart, Mopar red Katzkin leather seat fronts, door panels, center armrest and map-pocket inserts; black accent stitching is used in the seats and armrest. Piano Black trim is used on the shifter bezel, cup holder bezel and the dash-vent bezels, while the instrument cluster brow is black with red accent stitching; the island bezel is a Piano Black; and the steering wheel is in black leather with red stitching.
The Stage 2 performance modification uses a computer which, along with better airflow on the intake and low back-pressure exhaust, brings the Dodge Dart GTS 210 Tribute from 184 to to 210 horsepower, a substantial gain.
More photos are coming...
Interior •  Engines • Gizmos • Quality • Specs • Engineering • DDCT
Interviews • Dart GTS • RallyCross • Up Close •  Forums
Cars, Prices • SRT4/GLH? • Road Test / Review (at allpar)
This 2013-2016 Dodge Dart site was established in 2011. Terms of service / privacy policy. © 2011-2017 Allpar, LLC except as noted and Chrysler press materials.