Home SRT4/GLH Specs Vintage Forum

Powering the 2013-2014 Dodge Dart: Chrysler and Fiat engines
Two re-engineered Chrysler engines and one new Fiat engine power the 2013-2014 Dodge Dart, pushing torque through a choice of three different transmissions. All three engines are in-line four cylinders, water cooled, with 16 overhead valves, made in Dundee, Michigan. A Dart Aero model is coming with a promised 41 mpg highway rating, and a CNG Dart was seen being transported for testing.
2.0 Four
1.4 Turbo Four
2.4 Four
Used on (2013)
Std, all but GT
Opt., all but GT
Standard, GT
Used on (2014)
SE only
Aero only
All Others
Source
Chrysler
Fiat
Chrysler
Name
TigerShark
FIRE Engine
TigerShark
Horsepower
160 hp @ 6,300
160 hp @ 5,500
184 hp @ 6,250
Lb-ft torque
147 @ 4,600
184 @ 2,550-4,000
171 @ 4,800
kW / Nm
119 kW, 200 Nm
119 kW, 250 Nm
138 kW, 200 Nm
Valve tech
DVVT
MultiAir
MultiAir
Bore x Stroke
88 x 82 mm
72 x 84 mm
88 x 97 mm
Compression
9.8:1
10.1
Redline
6,500
Oil
0W20

5W40 synthetic
8,000 mile changes
The transmissions

The new Dodge Dart cars will have three transmission choices a six-speed manual, a six-speed dual dry clutch transmission (DDCT), and a six-speed automatic. The C635 Fiat transmission is standard on all cars, and is designed for peak torque of 350 Nm. The C635 dual-dry-clutch six-speed automatic is used only with the Fiat turbo engine, and has the same torque rating as the manual. It includes hill start assist.
The transmission likely to find favor with most American buyers is the Powertech 6F24, a fully electronic standard-type transmission capable of 250 Nm of torque. It has a 5.4 gear spread and standard AutoStick; it was designed to have no fluid changes or other maintenance, like many other new transmissions.
We believe this transmission is sourced from Hyundai, whose Powertech subsidiary makes 6F26 transmissions in the US. These transmissions may simply be a stopgap until the nine speed automatics are available, or may continue even after the nine speeds due to their presumably lower cost; they are used by Hyundai with the Korean automaker's own version of the World Gas Engine, a joint effort of Hyundai, Mitsubishi, Mercedes, and Chrysler.
Dart GT has different gearing and calibration than other models using the 2.4 liter engine, resulting in better performance and lower gas mileage.
MultiAir valve timing and lift system
The engine includes MultiAir, a variable valve timing and lift technology which allows for separate timing of each cylinder. The system uses electro-hydraulic valve actuators; a solenoid energized with each rotation of the camshaft regulates the amount of oil sent to the actuator, which controls the amount of lift from completely closed to completely open. The valves can also vary the timing. This system appears to be more effective than normal variable valve timing.
(Did that make sense? No? Try this.) Unlike fixed lobes on a conventional camshaft that control valve lift and duration, the intake valves with the MultiAir system are electro hydraulically controlled. This results in wide flexibility of intake valve openings for better fuel economy and power with lower emissions.
The Chrysler engines: 2.0 and 2.4 TigerShark
The two Chrysler engines are both the "World Gas Engines." Insiders say that the original block design, from Hyundai, was heavily revised by engineers from Chrysler, Mercedes, and Mitsubishi; Hyundai, Mitsubishi, and Chrysler then set up their own heads, intakes, and other key components.
The original Chrysler version was criticized for its tuning, which was high on peak horsepower and low on torque at key engine speeds. With the new Tigershark version, Chrysler engineers had another chance.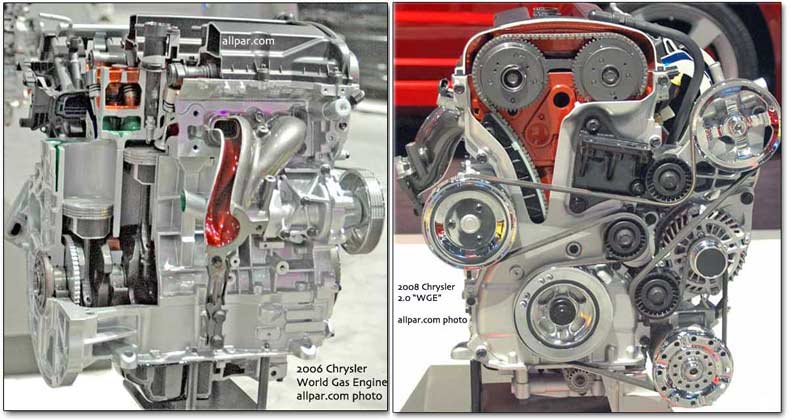 Retuning of the World Gas Engine was described by CJDR Tech: the engines had their valve timing retuned for a broader power band, sacrificing some peak horsepower but increasing gas mileage and performance; the manifolds will be swapped so the intake is in back; and the valvetrain will be updated to roller cam followers, doing away with the buckets on the valve springs. The whole package is called Tigershark — persumably because, if spelled correctly (as two words), it can't be trademarked?
The engine starts with a lightweight, high-pressure, die-cast aluminum block with cast-iron bore liners; it uses a forged steel crankshaft and forged connecting rods, and a cast-iron structural main bearing beam, for an extremely rigid and quiet lower structure. Bore diameter is 88 mm and stroke is 82 mm on the new 2.0 engine.
The engine is equipped with a steel sandwich type design oil pan that includes acoustic material between the outer and inner steel surface of the pan. The cylinder head has larger, 36 mm intake valves; independent variable valve timing on the intake and exhaust side have extended cam phaser range to 60 crankshaft angle degrees of motion.
Both the intake manifold and fuel rail have acoustically dampened covers that contribute to reduced engine noise in the passenger cabin. Regular fuel with an 87 octane rating is recommended. The 2.0-liter Tigershark engine is standard on the Dart SE, SXT, Rallye and Limited models.
The Chrysler version of the engine has always been made solely at a new plant in Dundee, Michigan; the plant has different work rules and a highly educated workforce, and was chosen to also make North American Fiat 1.4 engines. Blocks were made by J.L. French of Wisconsin.
While all the engines use essentially the same block, displacement is changed by shortening the stroke or using thicker piston liners. The pistons themselves have short skirts and friction-reducing graphite patches. The crankshaft is forged steel, is located above the balance shaft/oil pump, and draws oil from the oil pan; it includes an integrated pump. The blocks are all automatically measured at the factory and key components such as pistons and bearings are matched to individual engines to reduce machining and noise, while increasing engine efficiency.
The 2.4 liter engine
The 2.4 has the same features as the 2.0, but with special lightweight cast aluminum pistons and MultiAir. The exhaust goes through a tubular manifold in front of the engine compartment, cutting noise; other noise reduction features are an aluminum head cover, and sound-insulated intake manifold and fuel rail. The calibrations, exhaust, intake, and gearing are different on GT, which is optimized for performance, than on other cars, which are optimized for economy.
The Mopar Stage 2 performance modification uses a computer which, along with better airflow on the intake and low back-pressure exhaust, raises the 2.4 from 184 to to 210 horsepower, a substantial gain.
The Fiat turbo 1.4 "FIRE engine"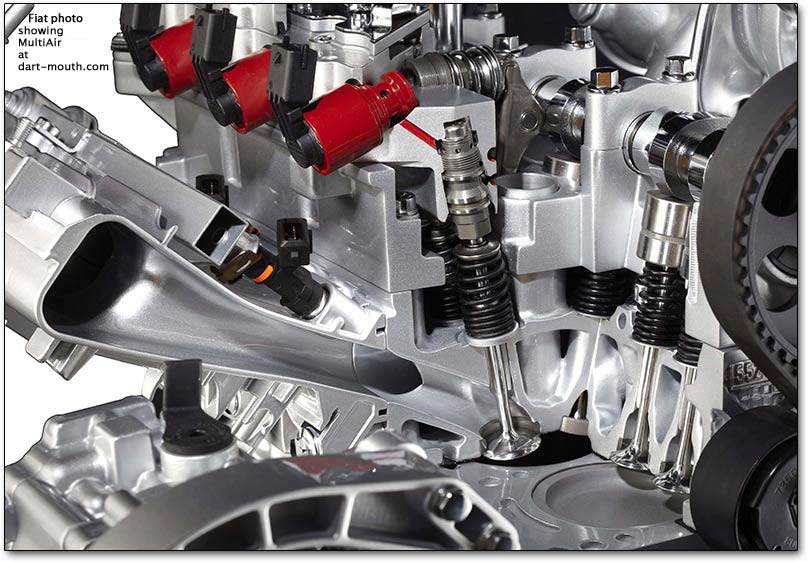 The 1.4 belts out 160 hp and 184 lb-ft of torque (more torque than in the Fiat 500 Abarth). Chrysler builds Fiat's "FIRE" (Fully Integrated Roboticized Engine) in Dundee, Michigan; it has been heavily modified and retuned by Chrysler to better fit American tastes and needs; this included allowing for the use of readily available oil, rather than the European-spec oil used in European editions.
The engine produces its strong 184 lb-ft of torque from 2,500 through 4,000 rpm, a wide band for better driveability. The turbocharger has a single charge air cooler, with computer managed boost pressure peaking at a hefty 22 psi at 4,000 rpm.
It uses a standard cast-iron block, with an aluminum bedplate. Bore is 72 mm (2.83 inches) and stroke is 84 mm (3.31 inches) for a total displacement of 1368 cu. cm (83.5 cubic inches), smaller than any engine built by Chrysler in North America. The bottom end is toughened with a forged steel crankshaft, and select-fit main bearings supported across four main journals. The crankshaft has lightened counterweights to reduce overall mass for high engine rpm operation. Forged steel connecting rods have unique cross sections to reduce bending.
Full-floating piston pins add strength to the lightweight pistons, while cooling jets at the bottom of each cylinder squirt oil on the bottom of the pistons, cutting cylinder temperatures and reducing the possibility of hot spots along the cylinder walls or at the top of the piston that could lead to detonation. Noise is reduced and weight saved with a structural aluminum oil pan. As with the ordinary Fiat 500, the engine uses MultiAir (see Allpar's 1.4 engines page).
In the U.S., the compression ratio is 9.8:1; the engine can run on regular but premium is preferred. The engine takes four quarts of oil, synthetic 5W-40 recommended, with oil change intervals are set at 8,000 miles. Coil-on-plug ignition fires dual-tip spark plugs. Fuel injectors spray at the intake valves. The turbocharger spins up to 230,000 rpm [verified by engineer David M. Schmidt], forcing extra air into the cylinders; it normally runs at 210,000 rpm. The system uses two charge air coolers (commonly referred to as intercoolers) behind the driver- and passenger-side air inlets; these reduce the heat of the high-pressure air, allowing for higher air density and reducing the potential for engine knock. Observers say boost peaks at a whopping 18 psi, far higher than past Chrysler limits.
Interior •  Engines • Gizmos • Quality • Specs • Engineering • DDCT
Interviews • Dart GTS • RallyCross • Up Close •  Forums
Cars, Prices • SRT4/GLH? • Road Test / Review (at allpar)
This 2013-2016 Dodge Dart site was established in 2011. Terms of service / privacy policy. © 2011-2017 Allpar, LLC except as noted and Chrysler press materials.