Home SRT4/GLH Specs Vintage Forum

2013 Dodge Dart Engineering and Development:
The Cool Stuff and How it Came to Be
The 2013 Dodge Dart was developed to exceed expectations for satisfaction, quality, and reliability. Design for Six Sigma (DFSS) helped ensure that customer opinions were used during development; there were more than 100 DFSS projects during the Dart's development. Each week, Dodge engineers tracked more than 5,000 customer objectives, derived from customer clinics. Engineers spent time with compact car owners and tracked what mattered to them.
Dodge engineers started with the Alfa Romeo Giulietta, praised for its driving dynamics and agility; they lengthened it by 12 inches, turned it into a sedan, and widened it roughly 2 inches to create near-mid-size car room.
Dart's Compact U.S. Wide (CUS-wide) architecture uses common, modular components for a common wheelbase, front and rear track, front overhang, length, and width across lines.
"Our designers' main objective was to create a harmonious surface language that incorporates many of the characteristics of the Dodge brand itself," said Joe Dehner, Head of Dodge Exterior Design. Designers strived to achieve styling goals while pushing and pulling on the Alfa Romeo Giulietta-based platform.
The 2013 Dodge Dart's body structure has a high-strength steel content of 68 percent, one of the highest in the industry. Hot stamped-, high-strength- and ultra-high-strength steel create a strong, lightweight, solid vehicle architecture.
Dodge Dart aerodynamics
The Dodge Dart spent more than 600 hours of development time in Chrysler's state-of-the-art aero acoustic wind tunnel. Designers optimized the car's front end for smooth airflow; examples include the notch angle at the rear of the car, the shape of the rear taillamp applique, the mirrors, and the rear corners.
The Dart is the first Dodge vehicle to employ an active grille shutter system, which closes the airflow through the lower intake when cooling is least needed, reducing drag roughly 3 to 5 percent. Coolant temperature and speed determine whether the shutter is open or closed.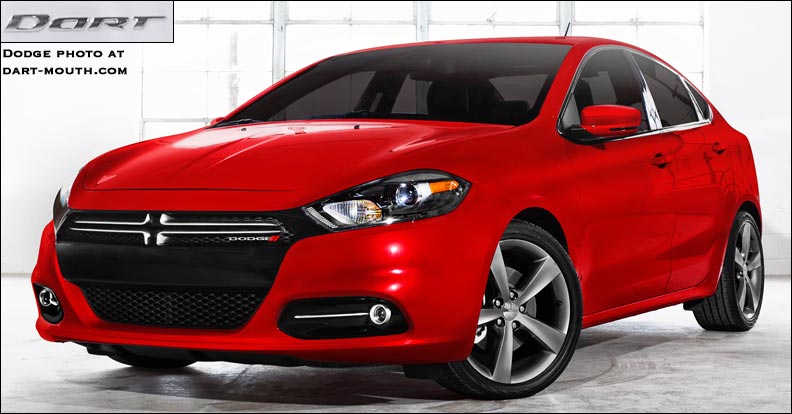 Segment-exclusive, black mold-in-color underbody panels, more typically found on luxury vehicles, cover 90% of the underbody. In addition to the aerodynamic benefits, the panels lower road noise. There are openings for maintenance (the oil change opening does not come off, so oil changers can't easily lose it); the panels are held on by SAE J-429 medium carbon steel bolts.
Underbody treatments, including a lower radiator close out panel, front and rear tire spats, an engine belly pan, two mid-floor belly pans, a center diffuser and outboard diffusers, collectively reduce aerodynamic drag by 7 percent.
Styling
"The Dodge Dart was a dream to design," said Joe Dehner, Head of Dodge Design — Chrysler Group LLC. "The Alfa Romeo-based architecture allowed us to design an exterior with great proportions that say 'fun-to-drive' when you look at it. Add in the Charger-inspired 'racetrack' taillamps, a new, sleek crosshair grille and piano black accents, and it all adds up to a performance-inspired design with just the right amount of attitude."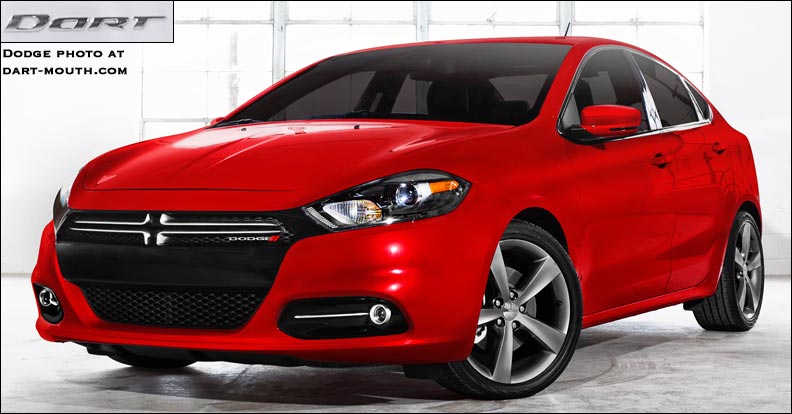 The low, wide, and long dimensions ensured a stable "body-in, wheels-out" stance and coupe-like silhouette. The CUS-wide platform allowed for pushing the wheels as far out to the corners as possible (which Chrysler used to call "cab forward"), creating a very stable look.
The rear view of the 2013 Dodge Dart has an available [optional?] Charger-inspired "racetrack" full-width taillamp with 152 indirect glow LEDs, and class-exclusive dual exhausts mounted in the rear fascia. Headlamps and taillamps were designed around projector lamps and light-emitting diodes (LED) for compressed, sleeker and wider looking graphic shapes.
Standard laser-braised roof welds, metal Daylight Opening (DLO) moldings painted black, and standard projector headlamps are some examples of features typically found on more expensive cars. Chrome is used with restraint. Glossy black paint-in-mold finishes, versus matte or mold-in-color (MIC) Black, is used on all models, while Dodge's "Hyper Black" finish is exclusive to the Rallye and R/T wheels.
The headlamps have a Hyper Black finish on Rallye and R/T models, chrome on the other models. An upper fascia piece results in tight 360 degree gaps around the lamp on the Dart. The new grille is much wider than tall, and compressed from earlier uses. It is body color on SE and SXT, body color against black surround on Rallye, chrome witih body-color surround on Limited, and black with black surround on R/T. The new raised chrome Dodge badge uses the red twin-stripe logo.
Driving dynamics
The Dart's chassis was engineered to deliver sporty handling dynamics and steering precision with ride and comfort for North American roads.
The balance of fun-to-drive dynamics, emergency handling, ride comfort, and a quiet cabin is accomplished through bushing tuning and the body structure.
The 2013 Dodge Dart uses a MacPherson strut front suspension, which has good packaging efficiency and light weight. Dodge engineers tuned the front suspension geometry to minimize camber loss, for more responsive steering and handling characteristics and a smooth ride with little to no road noise.
The knuckles and brake calipers are made of aluminum alloy, while suspension linkages are high-strength steel. The stiffness and low weight of the front suspension reduce rolling noise.
The 2013 Dodge Dart's suspension has a flat-bottomed geometry in which the floor plan is integrated, actively contributing to the Dart's aerodynamic performance. Contributing to ride quality are:
Split dome anti-sway bar blocks that optimize the exchange of forces between the suspension and body, filtering out vibrations
Telescopic hydraulic shock absorbers with high lateral stiffness
Solid half-shafts throughout the range that help reduce weight and vibration
Side load coil springs that optimize the thrust axis and help transfer loads on the shock absorber
High-strength springs

Durability and perceived vehicle quality are improved in part by isolators between the springs and their support bases to cut running noise, and one-piece cast-iron lower control arms.

A third load path, for safety, is created with attachments on the cast-aluminum, flat cross member that are strong enough to absorb loads in the event of an impact. The flat cross member enhances rigidity.

The Dart's front suspension cradle is constructed of high-pressure, die-cast aluminum, which is 14 pounds lighter than more conventional front cradle applications. The cradle also is stiff, helping stop the transmission of noise, vibration and harshness (NVH) into the passenger compartment.
The rear suspension is an independent, bi-link type using lightweight, hollow aluminum longitudinal arms. Engineers dampened and isolated the ride harshness with urethane jounce bumpers, for smooth, progressive engagement over sharp bumps. The rubber upper and lower spring seat isolators and shock absorber bushings and tuned rubber bushings at the inboard and outboard ends of the suspension provide additional isolation.
Many key components of the rear suspension improve vehicle handling, reduce road noise and improve durability. Handling performance is improved, in part, thanks to the use of an aluminum cross-member with an optimized weight/stiffness ratio for reaction to lateral loads; a torsionally stiff stabilizer bar; and well chosen bushings.
Road and running noise is reduced through the use of spring isolators and bushings with low dynamic stiffening ratios. Durability is improved with steel springs (with high fatigue durability) and chrome guide rods enable.
Telescopic hydraulic shock absorbers that connect to the lower link are engineered for minimal bulk.
As with the front cradle, the rear suspension cradle is crafted is a high-pressure die-cast aluminum structure optimized to provide minimal weight.
Standard 16-inch and optional 17-inch tires were picked with an emphasis on fuel efficiency. Dart R/T's standard 18-inch tire puts a priority on steering and handling.
"CDRJ Tech" wrote,
For the suspension, they will still use a MacPherson strut system in the front, but instead of bolting it to the body, they will secure it with a high strength plastic clip. They are also going to aluminum engine and rear suspension cradles. In the rear, they are using a shock with separate spring, but they refer to it as a lower control arm and upper trailing arm. With the 2.0, the intake manifold has been moved to the back of the engine and exhuast up front. VVT has been given a broader range to improve fuel economy and performance.
Electric power steering
With a 15:1 steering ratio, the 2013 Dodge Dart is one of the fastest-steering vehicles in the compact car segment. The electric power steering (EPS) drops the traditional hydraulic system, using no fluid; instead, a single 12V motor responds to inputs from the driver and stability control system.
The boost (assist) is variable and speed sensitive, responding to sensors for steering torque, steering wheel speed and angle, and car speed. The system is integrated with the electronic stability control (ESC) system and helps to compensate in split-traction, torque steer and pull-drift (crowned road) situations. The electric dual-pinion steering modules power assist curves according to driving conditions, and delivers up to a 3% improvement in gas mileage over a hydraulic system.
The Dart steering column is designed for telescopic adjustment of up to 40 mm and up to 4 degrees of angular adjustment. The Dodge Dart has an estimated turning circle of 38.1 feet.
2013 Dodge Dart brakes
The 2013 Dodge Dart is the only vehicle in the compact sedan segment to include four-wheel anti-lock disc brakes (ABS) with traction control standard on all models. The four-channel system monitors and controls each wheel individually, and provides backup braking in the unlikely event that one of the two braking circuits would fail. The software uses a steering wheel angle sensor that allows the system to differentiate between straight-line braking and braking in a turn resulting in better straight line braking with minimal yaw.
The Traction Control System (TCS), which is integrated with ABS, is an all-speed, four-channel system. TCS helps maximize driver control in all conditions by combining both engine torque and brake control to regulate wheel spin at all driving speeds. When the system senses impending wheel slip during acceleration, it signals the throttle control to reduce drive wheel torque. Under extreme situations, such as going from pavement to ice during acceleration, the system will selectively apply the brakes to maintain control. An ESC button on the center stack allows the driver to partially turn off the system.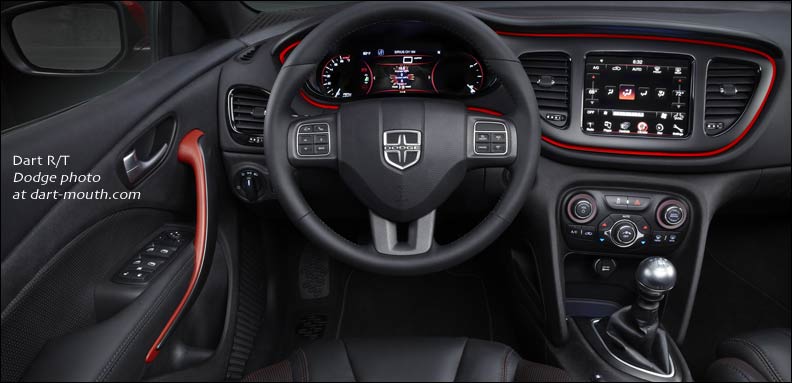 Electronic brake-force distribution helps maintain control under all loading conditions by regulating braking pressure front-to-rear.
Vented 305 x 28 mm front rotors help dissipate braking-related heat and improve braking performance compared with non-vented brake rotors. Solid 264 x 10 mm rear disc brakes improve braking performance with better pedal feel and reduced stopping distance. They are also quieter and lighter than drum rotors.
Interior •  Engines • Gizmos • Quality • Specs • Engineering • DDCT
Interviews • Dart GTS • RallyCross • Up Close •  Forums
Cars, Prices • SRT4/GLH? • Road Test / Review (at allpar)
This 2013-2016 Dodge Dart site was established in 2011. Terms of service / privacy policy. © 2011-2017 Allpar, LLC except as noted and Chrysler press materials.