ads by google
2013 Dodge Dart: the hot compact car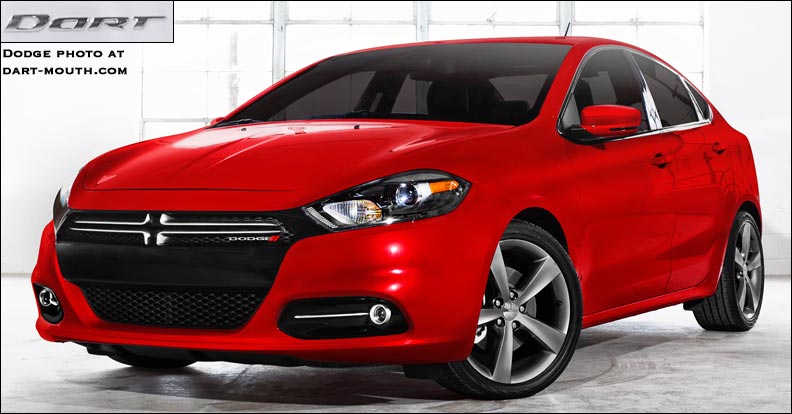 The 2013 Dodge Dart was loosely based on the Alfa Romeo Giulietta hatchback. The Alfa was lengthened, widened, converted into a sedan, reskinned, repowered, retuned, and given Chrysler interiors and systems. Fiat is now selling an altered version called the Fiat Viaggio, and there may, ironically, be a Viaggio hatchback on its way — a rebadged, re-hatched Chrysler version of what had been Fiat's car. (See a closer look at the Dodge Dart and its designers.)
We tested a 2013 Dodge Dart with the new dual-clutch transmission, which is now at dealers. The dual-clutch was smooth and sure, and, aside from shifting almost imperceptibly, felt like a standard automatic, even when coasting. Using the electronic range select (gear up/down buttons) resulted in nearly instant shifts — smoother than they had any right to be. We tried to trip up the system, with numerous trick that normally fool cars into a "bump-shift" or paralyze their computers; the Dart reacted quickly and smoothly to each situation. This is a dual-clutch automatic which, unlike some competitors' units, will not surprise drivers. The dual-clutch turns in the same city mileage as the stick-shift, but knocks 2 mpg off highway mileage, turning in EPA ratings of 27 city, 37 highway (28/40 on Aero).

The Dodge Dart is a quiet, sporty car with a good interior space and fine grip and composure. It had modern features, a flashy dashboard, and a balance of economy and acceleration. While quality and durability will not be known for years to come, both were definite priorities from the start of the program through to production. Compared with other cars in its class, the Dart has the longest wheelbase, front track, length, width, and greenhouse footprint. (See prices and options and, for gas mileage, specifications.)
The 2013 Dodge Dart will, like the original, be a relatively upmarket compact car, selling at a premium but delivering a better experience than its competitors.
Dodge Dart SE has a base price of $16,000; it does not have the configurable dash, big touch screen, which are on the Limited and GT, but reportedly Mopar may sell a retrofit kit for the Charger-inspired, full-width tail-lamp treatment. More details, models, and pricing.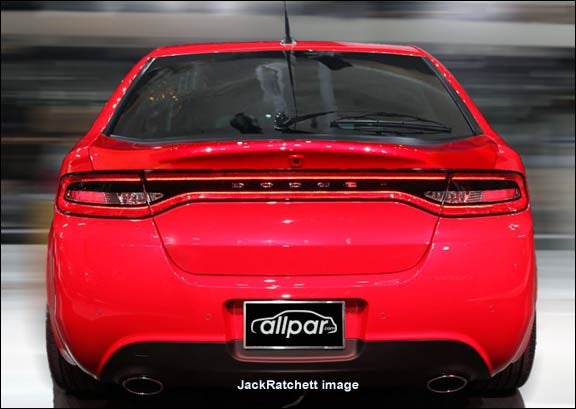 Artist's rendition of a possible Dart hatchback
The optional full-width tail-lamp design accentuates the Dart's width, using 152 indirectly glowing LEDs through an internal lens that creates a fractal glass appearance. Both front and rear of the car are rounded. Up front, an active shutter system directs air around the car when extra engine cooling is not needed, increasing aerodynamic efficiency; the underbody is covered for the same reason (the shutters and underbody treatment vary by model).
The new Dart car is, as Allpar forum member ChrycoFan predicted, around a foot longer and two inches wider than the Giulietta hatch. It is being made in the United States, and will finally fill in a gap left by the Neon. The same basic architecture will spawn at least one crossover and hatchback.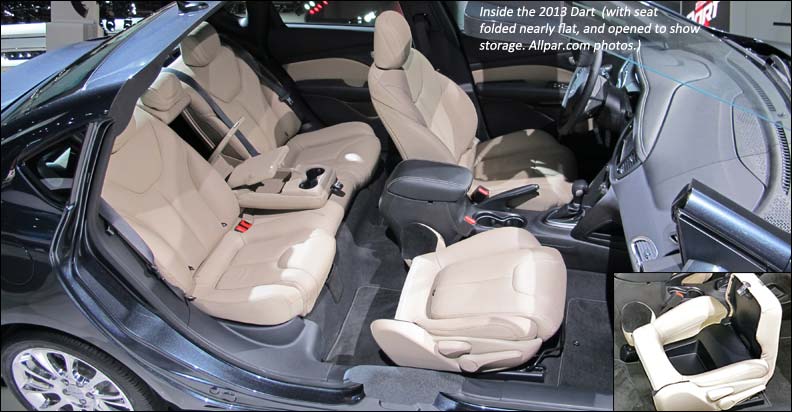 Why name the car "Dodge Dart?" According to Reid Bigland, CEO of Dodge,
Anyone that we spoke to that was under the age of 35, we showed them pictures of the 2013 Dart ... and asked them which names they thought fit best. Dart was the overwhelming bulls-eye. These people weren't very familiar with the 1960-1976 Dart. They were just looking at Dart for matching the design and the aero of the current car.

Then on a demographic of 45 and older, there was a lot of affiliation with name Dart. The affiliation with the name Dart, the original, was very positive.
The 2013 Dart uses Chrysler and Fiat engines (at 160 and 184 hp), with rumored optional all wheel drive coming; it has MacPherson struts up front, and a bilink suspension in back, both in aluminum cradles. Transmissions are a Fiat six-speed dual-clutch, a manual version of that transmission, and a "PowerTech" six speed which is sourced from Hyundai (there were no Chrysler units that would fit).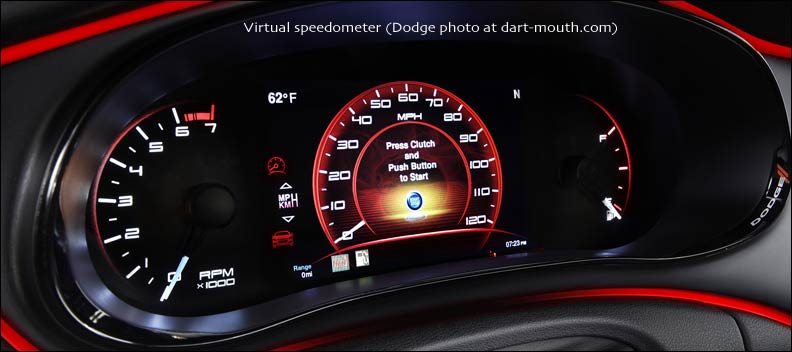 The reliable source oh2o wrote that the new Dodge Dart will be well equipped. SE (base) will get 16 inch wheels, and SXT and Limited going to 17" wheels. There will be a Rallye option for the SXT and, in total, six different wheel options along with the three engines and three transmissions. This has been confirmed. Rain sensing wipers appear to be another option, albeit unannounced, along with remote start (which can include turning on the heated seats and heated steering wheel). The voice recognition system allows the driver to choose between brief and detailed responses, a boon to the impatient. (The fancy dash and tail-lights both start as options on SXT).
oh2o wrote, accurately, that a high priority was placed on aerodynamics, with underbody covers and active grille shutters. Dodge described the many steps taken to increase aerodynamic efficiency, including over 600 hours in the wind tunnel; cutting the drag coefficient to an impressive 0.285 helps increase gas mileage and effective highway power, and cuts wind noise.
It is the longest, widest, and tallest car in its class, and the interior is quieter than the Chevrolet Cruze. The new raised chrome Dodge badge uses the red twin-stripe logo.
The GT version, we're told, will handle like a go-kart, despite the car's size and weight.
The interior is snazzy and advanced — check out our Dodge Dart interior page with a spy shot.
Safety and such

The Dart's headlamps are projector versions while tail lamps are light-emitting diodes (LED) for compressed, sleeker and wider looking graphic shapes. Glossy black paint-in-mold finishes are used on all models. Dodge's "Hyper Black" is exclusive to the GT.
The 2013 Dodge Dart was built with 68% high-strength steel; it has ten standard airbags, unsurpassed in the segment. The 2013 Dodge Dart is the only car in its class to offer blind spot monitoring and rear cross path detection. See Dodge Dart quality and safety.
The Dart will be built in Belvidere, Illinois; the cost for upgrading the plant, including adding new machinery and tooling, was $600 million. There will be no 2012 Dodge Dart (or Dodge Dart 2012 if you prefer) — production starts in 2012, but the car officially starts with the new Dodge Dart 2013.
Lots more 2013 Dodge Dart car information
Interior •  Engines • Gizmos • Quality/Safety • Specs • Development/Engineering • DCT
Dart Cutaway and Interviews • Mopar Dart GTS • Rally Car • Up Close •  Forums
2013 Models, Prices, and Options • SRT4? • Road Test / Review (at allpar.com)
This 2013 Dodge Dart site is owned by Allpar. Terms of service / privacy policy. © 2011-2013 Allpar, LLC except as noted and Chrysler press materials. All rights reserved; please do not reproduce any content without permission.